Garbage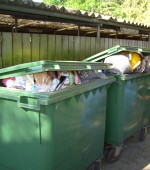 Regular garbage should be in closed backs and thrown out into the garbage containers outside the entrances. However, please take note of what you throw where. 
Paper/magazines and glass will be recycled, if you sort it and put it in the right container.
"Bulky waste" belongs at the EF parking area (by the road). 
Used batteries must be thrown into the placed container (in most blocks it hangs at the magazine shelf).
The dormitory hands in the batteries in the green battery containers at the AB parking area. You may choose to hand in your batteries there also.
Please notice that because of fire related considerations no garbage must be placed in the corridors or by the stairs. You may hand in used clothes in the clothes container next to the laundry.
Metal garbage (cans etc.)
 On December 1st 2008 we now have the opportunity to sort metal garbage from the rest of the garbage.
Metal garbage in particular is of great environment potential to sort out and recycle at this dormitory. Most kitchens have beer and soft drink arrangements, which involves cheap, imported drinks in cans without deposit. It is doubtful whether most of the residents trouble themselves by hand in the cans in Netto or other places. Far from most cans end up with the regular garbage in garbage incinerations, where they don't belong. In the future all other small metal garbage, besides aluminum cans, is to be sorted.
The metal garbage will be picked up together with the bulky waste in 110L transparent, closed plastic bags. This means that every kitchen is able to fill the plastic bags and then transport them to the bulky waste shed near EF. Because the janitor and the caretakers have enough to do already, the filled plastic bags are not to be placed at the garbage islands (by the green containers), but they must be taken to the bulky waste shed. Furthermore, because empty cans and other metals don't weigh that much, it wouldn't be that big of a problem to carry them over there.  
For now the filled bags can be placed against the bulky waste shed and later on a large cage will be placed for the bags.
Transparent plastic bags and laminated signs explaining what are to be put in the bags can be picked up at Lars Kaj (the janitor). Hopefully, later on containers for the plastic bags in each kitchen will come up.
If you have any questions about the arrangement, please contact Anders, S-24 (andersbjoern@hotmail.com)