Board game club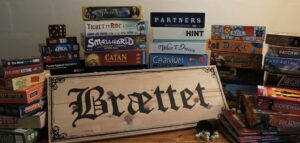 Welcome to Brættet, Nybrogård's very own board game club. (Located in the CD-basement) To become a member, please join our  Facebook group.. Membership is free!
Official game events are held each month, but we strive to meet up and play games casually as often as possible. Time and details are announced on our Facebook group. In this group, you can also find fellow players at Nybrogård, and discuss what and when to play. We encourage everyone to initiate boardgame nights/events!
We regularly add new games to our collection, where our members help to decide which games are purchased. At the moment, the club has the following boardgames
You are always welcome to borrow a key if you want to use the games and facilities of the club. Simply contact one or more of the keybearers by phone or Facebook, and they will respond as quickly as possible:

If you want to be certain to have access for a planned personal event, make sure to write in good time. It is also possible to write to us at
The Rules
1. Common sense. Let's make sure our beloved club room is a place you want to be.
a) Take good care of the furniture as well as the board games and keep the place clean and tidy.
b) Please do not leave remains of food in the trash bins.
c) When you leave, remember to turn off the lights, lock the door, and again: clean up after yourselves! :)
2. Borrowing board games.
a) When borrowing a boardgame, simply fill out the form for borrowing board-games (which can be found next to the board game shelf) and make sure to return the game(s) within 3 days.
3. Damages.
a) If you accidentally damage something, please contact a keybearer.
b) We expect compensation for furniture and board games that have been ruined beyond repair.