Presentation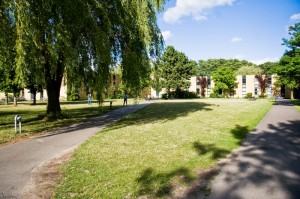 The Nybrogård Dormitory (mostly abbreviated NYK or Nybro) is situated in beautiful surroundings between Lyngby Lake and Bagsværd Lake and near the stream 'Mølleåen'.
It is possible to bike to DTU (Technical University of Denmark) from the dormitory in about twenty minutes and roughly 50% of all residents study at DTU. You can also bike to Lyngby Station in about ten minutes and here you have good means of public transportation for other education centre.
The Nybrogård Dormitory consists of 536 tenancies. 446 tenancies are of 12 m2, while 22 tenancies are of 16 m2. All tenancies have their own bath, toilet and a small hall. 13 tenancies share a common kitchen. The tenancies are located in 26 corridors with two common kitchens in each.
Furthermore the dormitory has 68 apartments including two rooms, own bath, toilet, hall and kitchen, a total of 32 m2.
The Nybrogård Dormitory also offers a sun terrace, kiosk, bar, private coin laundry, internet, and several clubs like a canoe club, a music club and an exercise room
Here follows some photos taken at the Nybrogård Dormitory.